100% FUN /// 100% RACE /// chose your style
Real snow fun reviews
Test 1 - Tobogganing with children (approx. 20 meters toboggan slope).

Here the kids can toboggan...but what you notice here already, it gets fast😉.

The action camera mounted on the shaft (in my case a TomTom Bandit) and captured many emotions of the children. As an adult, you can guess the difference to a Zipfelbob.

Conclusion: Mega fun for big and small ones!

Mr. Mue (Quote Amazon review)
Test 2 - toboggan slope approx. 100m

Here the dad tests first. And now it shows what speed is in it. The next time I take my GPS to measure with👌🏻.

So fast I was a mountain never down🚀😂

I would only let kids ride here if they are already safe.

Mr. Mue (Quote Amazon review)
Test 3 - Mountain (Fichtelberg)

Just awesome...of course you have to overcome the fear, because it is already fast and you also need a little practice so that it works like in the videos.... so who is winter sports Affin and can "carve" with skis or snowboard, for sure even more awesome.

But you will be really fast... so as always in winter sports "helmet on" !!!

A prepared track is nice, if there is too much fresh snow, it is harder to "carve".

Mr. Mue (Quote Amazon review)
1. sitting position:

Sit normally on it...both hands on the shaft and lean back as far as the arms are long. So automatically come up the legs and even tall people over 190cm can easily ride it.

Mr. Mue (Quote Amazon review)
2. brakes

The bob has a braking edge at the back. To slow down, pull the bob up with momentum. That doesn't work very well for me yet, but I'm still practicing...I slow down with "carving".

Mr. Mue (Quote Amazon review)
3. steering

Yes, you can steer the bob. For this he has, as the advertising promises, edges on the sides.

Already on the 20m toboggan hill I tried this in the run-out of the hill to stop and it works! On the longer distance then even quite well. Here times an example of a left curve:

Shift weight to the left and take the left arm off the shaft. The bob pulls slightly to the left. If I lean further into the curve, it pulls more to the left. The hand/arm supports the movement. The hand is allowed to really get into the snow....This is how I usually stop now...also looks more sporty😊.

The deeper you get into the turn, the steeper the turn...obviously.

Mr. Mue (Quote Amazon review)
What else there is to know:

You can loosen the shaft with the help of the screw in the front. This way it takes up less space. When the ScoopJet is "assembled" for the first time, knock the shaft into the ScoopJet with momentum and screw it tight. But I always leave it on.

So, winter has a new fan. Me...hope it lasts a few more weeks....

150 EUR seems a lot...but it's worth it. A good sled or Zipfelbob/Minibob also costs around 80 EUR up to some hunderets of Euros...but you can neither control nor brake.




Mr. Mue (Quote Amazon review)
Patented TECHNOLOGY, SAFETY & FUN ADVANTAGES ONLY WITH THE ORIGINAL SCOOPJET® Carver!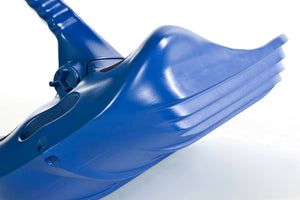 PATENTED* CARVING EDGES
Real carving only with ScoopJet. Pure riding dynamics and full control. Feel the G-force :-)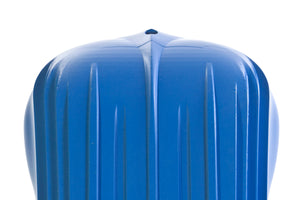 PATENTED* SLIDING SURFACE
Stays in track with fast sliding properties in deep snow and hard slopes. Be a fun & race winner!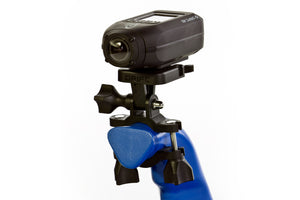 ACTION CAM & LIGHT MOUNTING
1.26" (32 mm) mounting for action cam or light systems for lasting fun and safety.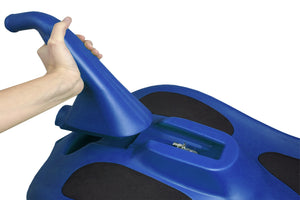 REMOVABLE CONTROL GRIP
Removable shaft for easy and space-saving storage inside a skibox or up to two SCOOPJETS® inside the bottom case of a trunk.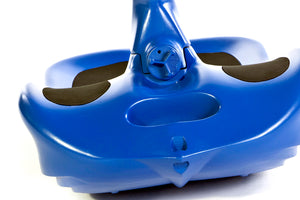 CARRYING HANDLE
For comfortable pulling, lifting and carrying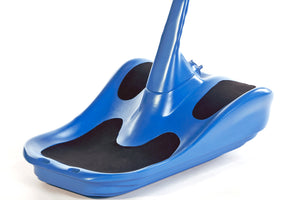 ERGONOMIC GRIP PADS SEAT
Optimized, nonslip sitting position with stable slide blocking leg place.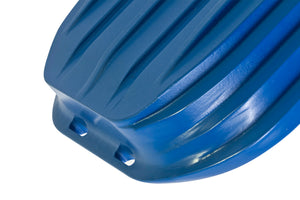 LEASH MOUNTING AND PATENTED BRAKING EDGE
Control for riding beginners through safety leash, back-belt carrying system.
The braking edge reduces the braking distance up to 50% compared to conventional Zipflbobs.

* DEVELOPED AND PROTECTED FOR YOUR FUN, SAFETY AND COMFORT: MULTI PATENTS
EP 1979219, WO 2012 02 01 20
UTILITY PATENT 11735
DESIGN PATENT 00227 1593-0001-002271593-0001-00227593-0003
SCOOPJET® IN SOCIAL MEDIA